Travertine Stone Tile Suppliers In Iran, they can produce high-quality tiles and sell them in world markets. Marvelous Stone Company is one of the most experienced manufacturers and suppliers of travertine tiles in Iran. Our tiles are sold with high quality and at a great price for buyers.
What you read in this article:
What Is A Travertine Stone Tile?
Travertine is a sedimentary (calcareous) and natural rock and has pores and sediments. It is used from the sediments left from hot springs and caves and has most of the decorative uses that most of these stones are found in Italy. But travertine resources are common in Turkey, Mexico, Peru, Croatia, Iran, and even China.
The most important mines of this stone in Iran are the travertine stones of Abbas Abad, Hajiabad, Bukhari Valley, Takab, etc., which have a special quality and popularity due to their bright color and strength. The silver travertine is one of the most famous types of stone in Iran
Where To Use Travertine Tiles?
Travertine was first popular with the Romans about 2,000 years ago, and because of its wide range of colors and designs.
Architects inside and outside the building mostly use this stone for the exterior of the building, but it is also sometimes used as flooring and tiles. The stone is available in a variety of colors, including silver, chocolate, brown, white, cream, red and beige. In Iran, the use of travertine slab in luxury buildings is very common.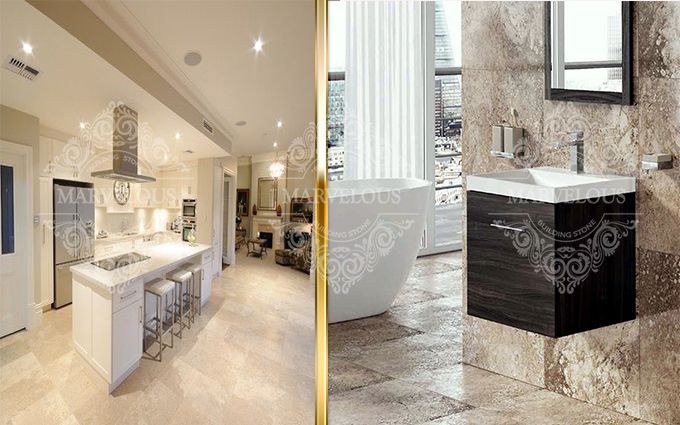 Travertine Stone Tile Suppliers
There are many suppliers in the world for travertine tiles. But why do customers choose Marvelous Stone company? The most important reason for this choice is the high quality of our products. In the next step, customers prefer to work with a professional team and receive their orders as soon as possible. Another important reason for this choice is the reasonable price of our products, so most suppliers prefer to order the stone they need.
The Best Supplier Of Travertine Is The Marvelous stone company
Marvelous Stone Company is one of the best travertine stone tile suppliers in Iran. Our company has been present in the global market for many years and is still a reliable and experienced company.