Travertine Stone Tile Flooring They are usually used in most buildings today. The Marvelous Stone Company is one of the best suppliers of travertine flooring in the Middle East. In addition, the company has extensive experience in exporting various types of travertine to various countries around the world.
What you read in this article:
Travertine Stone Tile Flooring
In today's world, the use of travertine tiles in buildings has increased. People are more interested in using travertine as a tile and floor than ever before.
Of course, this is because of the good advantages of this stone. In fact, travertine is a beautiful stone with a much higher resistance than marble. We all know that no building stone has the strength of granite.
But granite is much more expensive than travertine, which is why people prefer to use travertine. I have explained a lot about the quality of travertine in previous articles.
If you are interested, you can read our past articles from the article archive section. Travertine tiles come in a variety of colors. Examples include silver travertine, Gray Travertine, and Red Travertine. Do not forget to consult a specialist to buy travertine.
The Best Supplier Of Travertine Tiles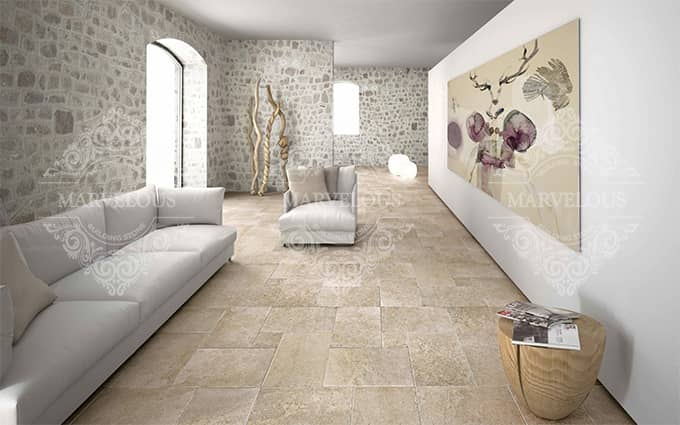 In this section, I have decided to have a recommendation for you travertine buyers. Maybe you are planning to buy bulk or import travertine and you are looking for a good supplier.
Undoubtedly, I recommend you to buy from the best travertine supplier in the world. Iran is without a doubt the best supplier and distributor of travertine tiles in the world.
There are many reasons for this claim. Certainly, this advice is not just an advertisement for Iranian travertine, but it is your right guide. However, Iran has many travertine mines.
Most cities in Iran have built stone mines. Mahallat is one of the most important travertine extraction centers in Iran. Hajiabad and Abbasabad travertines are produced in this city. Please contact our experts to get the price list of travertine tiles.