Travertine Stone Tile It is one of the most important raw materials in construction. The Marvelous Stone Company is one of the best suppliers of travertine in Iran. The company also exports a wide variety of travertine blocks, travertine slabs, and travertine tiles.
What you read in this article:
Travertine Mines
Many mines in different countries of the world are extracting travertine. In today's world, the use of this stone has become very common. Travertine with its strength and beauty has been able to find a good position in the global stone markets.
In travertine mines, this stone is available in different colors, types, and shapes. The most popular travertine colors are silver travertine, gray travertine, yellow travertine.
The most important travertine producing countries in the world are Turkey, Italy, Greece, Portugal, and Iran. In addition, in recent years, Turkey has been at the forefront of travertine production and exports in the world.
It has many advantages for travertine importers in Europe. It should be noted that the quality of travertine in these countries is different. But among them, the quality of Iranian travertine is unique.
Travertine Factories
Travertine factories have the task of preparing travertine for sale. The travertine block is transferred to homework after extraction. More additionally, factories with their machines and equipment cut the blocks with large cutting machines.
After cutting the blocks, the travertine is cut into slabs. Of course, we need to know that some customers need and order slabs based on certain sizes. As a result, they cut blocks based on their size.
Slabs are moved to another part for polishing. In that part, these stones are smoothed and polished by polishing machines and transferred to a warehouse or exhibition.
Customers can visit the production line and exhibitions to buy and choose the stone they want. So, after ordering, buyers send travertine to them.
Travertine Stone Tile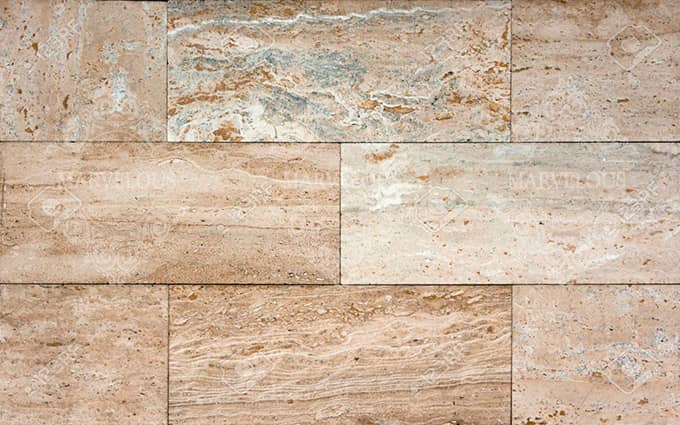 There are many suppliers of travertine tiles in the global travertine markets. In most travertine producing countries, buyers can find many suppliers. Travertine stone tile has many customers in the world.
As you know, choosing good travertine suppliers is not an easy task. Furthermore, the issue of seller trust is a very important issue in a business relationship. Travertine supply systems work differently in different countries of the world.
Financial communications in different countries involve different rules. We suggest you choose a supplier that operates in a country with simple business rules.
A wrong choice in finding a supplier can cause you a lot of problems. In this regard, Iran has one of the best suppliers of travertine in the world. Moreover, Iran has very simple export laws and this is a great position for traders, wholesalers, and customers.
Export Of Travertine
Travertine is exported to many countries around the world today. Many countries in the world are developing and building new infrastructure. The use of raw materials for construction is increasing day by day and the demands are increasing.
Due to this, the export and import of building stones have also increased. Some customers in these markets are looking to buy cheap travertine. For them, the quality of travertine is not very important and they are more looking for a cheap price.
On the other hand, most customers are looking for quality stones at reasonable prices. Exporters in this market are looking for both categories of customers and supply both groups.
Knowing and understanding the quality of the stone is an important and specialized subject. Turkey has a large share in the export of travertines in the world. So, finally, when you want to buy travertine you should consider some important topics.