Travertine stone block for sale In Iran, it can be very useful for foreign customers. This is mainly because customers can buy these blocks at a cheap price and import them into their country.
What Is Travertine Stone?
Travertine is a natural stone. It is a type of limestone formed around hot springs.
The main difference between travertine and marble and granite is in its strength and appearance. This stone is used in many places, but most of this stone is used in construction projects.
In addition, travertine is available in many colors in nature, such as white, cream, brown, gray, yellow, silver, and red. The quality of travertine depends on the soil of the area. After extraction, this stone is transferred to the factory in the form of blocks and is sold as slabs, tiles, flooring, and mosaics.
Where Are The Appropriate Travertines?
Travertine is a very beautiful and durable stone in nature. This stone has many applications in architecture.
Due to the variety of colors and strengths of this stone, engineers use it for interior and exterior spaces of the building. Furthermore, travertine is a favorite of interior designers.
This is true because with the variety of colors of this stone, they can design beautiful interior views. Moreover, the bright colors of this stone are very soothing and suitable for the interiors of luxury homes.
The stone is used in
kitchens
bathrooms
living rooms
swimming pools
patios
courtyards
sidewalks
and exteriors of buildings. It is also used today in modern lobbies and skyscrapers.
Travertine Stone Block For Sale In Iran
Iran has abundant reserves of building stones. Iranian travertine is one of the best examples of this stone in the world.
The most famous travertine distributors in Iran are in Isfahan and Lorestan. Large blocks of travertine are weighed after cutting in the mine. The approximate weight of these blocks is more than 50 tons and sometimes this weight reaches up to 90 tons.
Buying travertine blocks is one of the best ways to supply stone for construction projects. The price of travertine blocks depends on the type of stone, its weight, and its strength. Stone traders and other customers can buy Iran Travertine Block at the best price for their projects.
Because the price of travertine blocks in Iran is always cheaper than the world price of this stone.
Export Of Travertine Blocks From Iran
Iran has always had successful exports with abundant reserves of building stones. Export of building stones has a long history in Iran. Iran's neighbors can easily import Iranian building stones.
After extracting the blocks, these blocks are cut according to the needs of foreign customers and sent to them in the form of slabs of different sizes.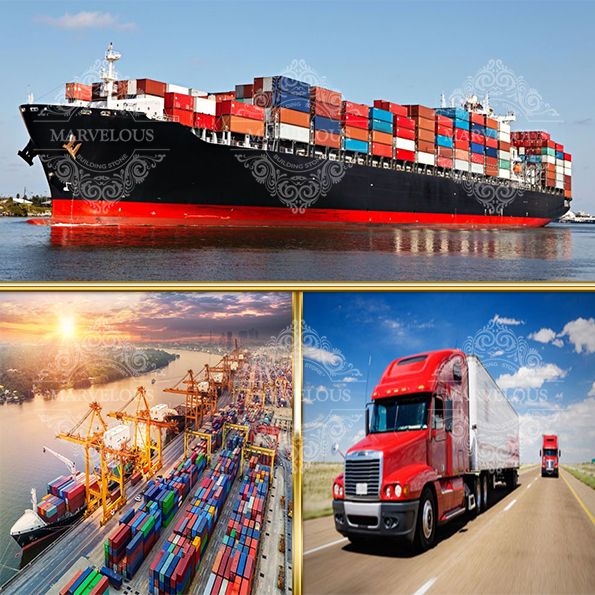 Export Travertine Block With Marvelous Stone Company
The Marvelous Stone company specializes in selling travertine blocks. The company is the best partner for buyers of this stone with its professional team of consultants. travertine stone block for sale is one of the best Our specialties. We have many offers for our customers to buy like travertine tile.
Our consultants can suggest the best type of travertine for your projects. After receiving your orders, our sales team will quickly supply the stone you need and send it to you through customs as soon as possible. Contact us to receive our product catalog.