Travertine Price, In fact, depends on many factors. Such as travertine quality, travertine thickness, stone dimensions, stone production quality, type of packaging.
What you read in this article:
These are just a few of the factors that will be discussed below. The Marvelous Stone Company is one of the leading manufacturers and distributors of travertines in the Middle East. The variety of quality and color of travertine in our company is very high. Please stay tuned.
Travertine Price
Undoubtedly, travertine-producing countries have different conditions for production. Not all travertine manufacturers have the same conditions. Also, travertine suppliers are trying to create better conditions for themselves in the production of this stone.
However, in every country, there are rules and conditions that may affect the price of travertine. In this article, we intend to explain some of the important factors affecting the price of travertine.
Unfortunately, not all the conditions for determining the price of travertine are available to the suppliers of this stone. Many conditions are imposed on travertine manufacturers. They should also try to continue working under these conditions. In fact, there is no choice but to do so.
Determining The Price Of Travertine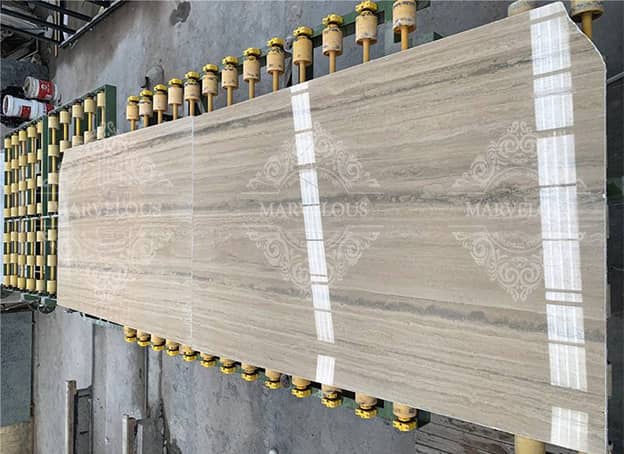 As I said, various factors affect the price of travertine. The thicker the stone, the more expensive the stone naturally. It is more expensive if the color of the stone is lighter and has a smooth and uniform appearance.
Even the type of stone packaging and whether the bases are wooden or metal raises the price. The quality of extraction and the type of soil in the region and the climate also affect the price.
Factors such as fuel costs, workers' wages, transportation, taxes, and customs costs also make prices more expensive. As you can see, these factors are many. In addition, do not forget about insurance costs, transportation costs by train or ship.
Which Country Has The Best Travertine Price?
Undoubtedly, our choice is Iran. Iran is the best producer of travertine in the world. The high quality and cheap price of this stone in Iran are world-famous.
Travertine traders are well aware of the cheap price of this stone in Iran. The best and cheapest travertine blocks are offered and sold in Iran. In addition, travertine slabs and tiles with different qualities and colors are sold in stone markets in Iran.
The price of travertine in Iran starts from $ 4 to $ 30 per square meter. Paints such as silver travertine, gray travertine, and white travertine are produced and sold in Iran.
Please contact the sales department of The Marvelous Stone Company to get the price list of travertine types. You can also fill out the form at the top or bottom of this page for our consultants to contact you.
Marvelous stone company management
+989122125576
Marvelous Stone Company Sales Manager
+989192806551