The Best Yellow Granite Supplier Can be easily found in the countries that produce this stone. The Marvelous Stone Company is one of the most important suppliers of yellow granite in the Middle East. Also, this company is a leader in exporting various types of granite to different countries of the world.
What you read in this article:
The Best Yellow Granite Supplier
Yellow granite is usually also available in most granite producing countries. Yellow granite has special customers and is only used in some countries. But this is not the reason why this stone is not good.
In fact, granite is always quality and ideal stone. But the issue of granite color is another matter. Iranian customers often use this stone in the kitchen. Seen in other countries, it is also used as flooring.
Yellow granite is slightly more expensive than other types. Because the mines of this stone are less than other types of granite. Iran and India are the main producers of yellow granite.
I will explain the quality of yellow granite in these two countries below. Most Arab countries are also buyers of yellow granite. They usually use this stone as flooring. Some customers even order yellow granite in film form.
Export Of Yellow Granite
Undoubtedly, many developing countries need to import raw materials. Naturally, granite is one of the most important building stones. These countries have to import granite to meet their needs.
Because they do not have the capacity to produce this stone in their country. As a result, they have to communicate with suppliers. In this way, if an agreement is reached between the two parties, the export operation will begin.
But are you looking for cheap or quality granite as a buyer? Most customers are now looking to buy cheap granite. While many suppliers take the issue of quality seriously.
High quality means expensive and of course, the opposite is true. In Europe, most customers are looking for quality and the high price does not matter to them.
The Best Exporter Of Yellow Granite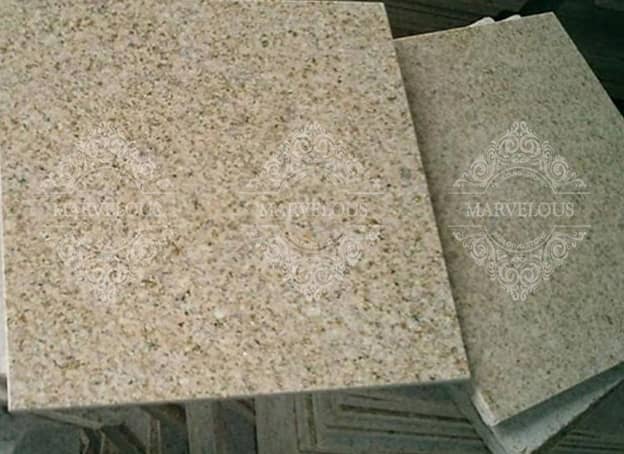 As you know, there are many exporters in granite producing countries. But how do we find a good exporter? We solved this problem. This is the most important issue for granite importers.
The Marvelous Stone Company provides you with a hassle-free export. You may doubt our quality. So please buy from us once and see our excellent quality. Please contact our consultants to place your order.