Production Of Dehbid Cream Marble It is usually done in Iran in Fars province. Because the mines of these stones are located in this province. In this article, we want to acquaint you with different parts of Dehbid marble production in Iran.
What you read in this article:
Production Of Dehbid Cream Marble
Surely you know that Iran is one of the largest producers of building stones in the world. Ornamental and building stones are produced in large volumes in Iran. Marble, granite, travertine, onyx, and basalt are produced in Iran. These stones are offered in different colors and qualities in Iranian stone markets.
One of the most famous types of marble in Iran is Dehbid marble. Dehbid marble has a great variety and is produced in different mines in this province. Most of the colors of this stone in different mines are light cream and dark cream. The production of this stone is usually in the form of tiles and slabs.
Dehbid Marble Processing
The production process of Dehbid marble begins with the extraction of this stone block from the mine. After extraction, some blocks are purchased and exported in the same mine. Most Chinese and Arab countries are buyers of this stone block. But a large part of these blocks is sent to factories in Dehbid, Isfahan, and Tehran.
Because factories in these cities have modern facilities for processing these stones. Moreover, many customers in Iran are looking to buy different types of Dehbid marble. Preferably, this stone has a long life if used in dry weather.
Dehbid Marble Exports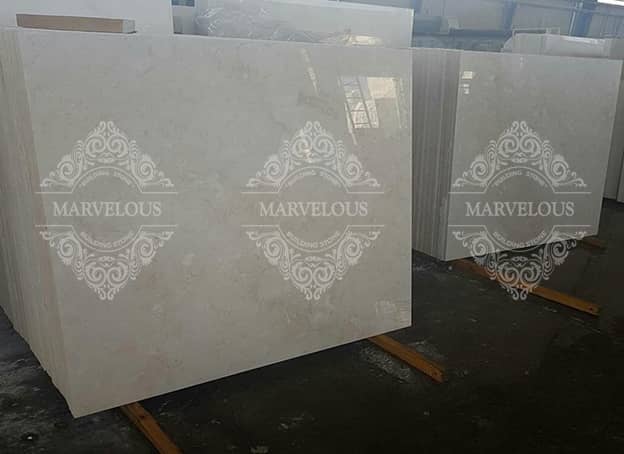 It has already been said that this stone is very popular among Arab and Chinese customers. In fact, Dehbid marble as an Iranian marble has a very good capability and resistance against dry weather. In addition, the quality and processing of this stone are excellent. For this reason, these customers can buy this stone at a good price. Many importers of this stone prefer to buy all kinds of Dehbid marble tiles. So, of course, pink marble, red marble, and white marble are also produced in Iran.