Onyx stone export-import It is without a doubt. These stones have very high beauty, charm, and variety. The best architects in the world use Iranian onyx stones in their buildings.
What you read in this article:
Onyx stone export-import
Iran is one of the oldest producers of building stones in the world. There are different mines of these stones in different cities of Iran. All kinds of marble, granite, travertine, basalt and onyx stones are produced in Iran with great diversity.
Fortunately, the best onyx mines in the world are in Iran. More additionally, these stones come in a wide variety of colors, qualities, and prices. Also, in the field of onyx stone production, there are very good producers in Iran.
As you know, most of the onyx products in Iran are being exported to different countries. You may ask that onyx stones are also produced in other countries of the world.
Yes. In countries like Italy, Afghanistan, and Spain, all kinds of onyx stones are produced and onyx stones are sold in the world markets. But one of the important advantages of Iranian onyx stones is the great variety of these stones, which other countries lack this variety.
As well as this, the next important factor is the price of Iranian onyx stones. These stones are in good condition and are suitable for international prices. In fact, these stones are very cheap for the rich countries of the world.
Types of Iranian onyx stones for export- import
Many mines in Iran are extracting all kinds of onyx stones. For example Azarshahr green onyx, Kerman green, Baba Shur Ab green, Isfahan green, Shahin Dej white marble, Azarshahr green, Abbasabad Jolfa green, Yazd green, and Kerman green onyx.
Of course, the number of these mines is really large and it is difficult to describe all these mines in this article. We will definitely publish an article about onyx stone mines in the near future.
Now the question may be raised, what kind of onyx stones are there in Iran? White, blue, pink, vegetable, Maserati, cappuccino, brown, honey, romance, rainbow, orange, and lemon onyx stones are produced in Iran.
The Marvelous stone company is one of the top producers of all kinds of onyx stones in Iran. We offer you the best types of onyx stones with high quality and export, with excellent cut and cut below the market price.
Well, Don't worry about the prices to buy these stones. Our biggest concern in producing these stones is to provide the best quality for these stones.
Applications of Iranian onyx stones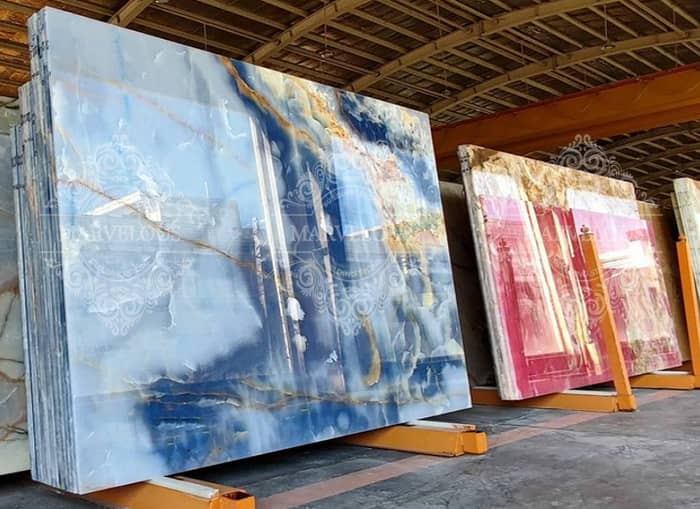 Onyx stones have many uses like other building stones. From onyx stones
● Paving of residential complexes
● Kitchen counter
● Religious places
● Lobby floor of hotels, commercial and residential complexes
● Hotel lobby wall
● Stepping stone
● Stairway flooring
● Interior decoration
● Luxury palaces and buildings
● Churches and temples
● Tombstone
● Halls
Undoubtedly, the use of these stones in these spaces creates a lot of attraction for these spaces due to the property of light transmission.
The price of Iranian onyx stones for export- import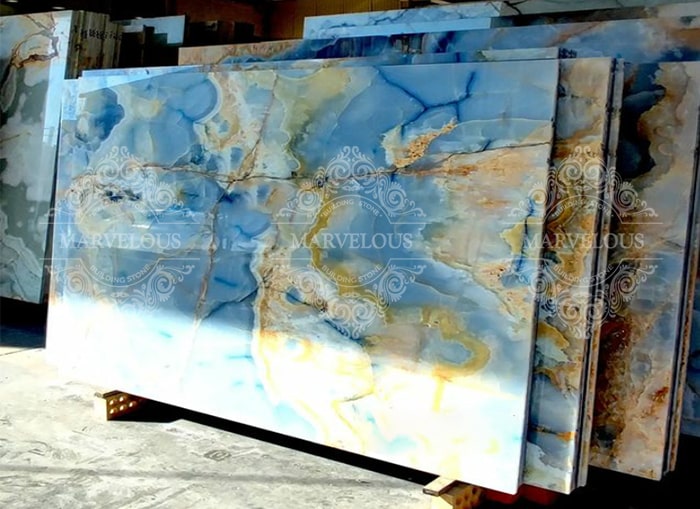 It is safe to say that one can talk for hours about the issue of price and the factors affecting the price. The production conditions of onyx stones are one of the most important factors in the price of this stone. Most customers of onyx stones believe that these stones are of high quality.
Well, the quality of the cut and sub of these stones can be easily seen in these pictures. So, Another factor that affects the price of these stones is the size required by customers.
Finally, undoubtedly, the larger the volume of your order, the more the seller is willing to give you a discount. Moreover, The best onyx stone specialists are ready for a free consultation for you, dear buyers.