Marble Stone Quarry Can be found in marble producing countries. The Marvelous Stone Company is one of the best suppliers of high-quality marble from various mines in Iran. In addition, the company is one of the largest exporters of marble to various countries around the world.
What you read in this article:
Marble Stone Quarry
Most marble producing countries have many mines of this precious stone. The use of marble in buildings has a long history. Marble was used to building palaces and temples.
This type of stone has been considered by people from the past until now due to its beauty and resistance. Today, marble is also used to build luxury buildings.
It should be noted that marble is a favorite stone of interior decor designers. Marble mines are widely distributed in different countries of the world.
Many countries in Asia extract and produce various types of marble. There is a great variety of marble colors in different mines. For example, pink marble, red marble is very beautiful types of this stone.
The Most Important Marble Mines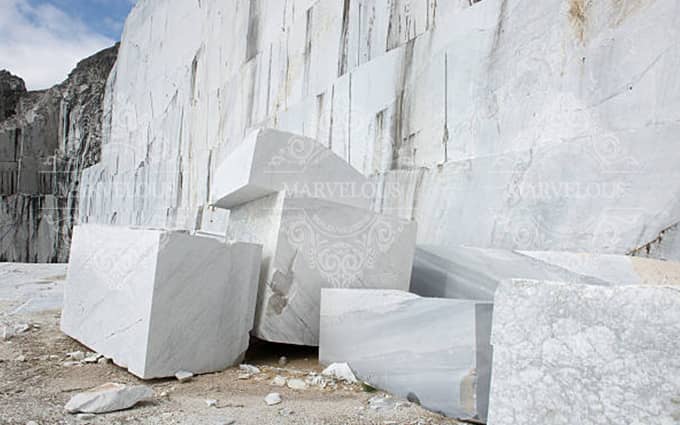 The most important marble mines in the world are Italy, China, India, Turkey, and Iran. Italy is one of the most famous producers of high-quality marble in the world.
The use of marble has long been popular among Italian people and artists. It is the largest supplier of marble in continental Europe. Turkey is also a supplier of marble in Europe.
The quality of Turkish marble is not equal to that of Italy, but it has an acceptable quality. China is one of the largest producers of white marble in Asia.
It is also one of the most important suppliers of building stones in the world. India is one of the top marble producers in Asia. India has been present in world markets in the production and distribution of marble due to its many mines.
Iran Is The Best Supplier Of Marble
Iran is the best supplier of marble in the world. There are many marble mines in different cities of Iran. In addition, the quality of marble and its reasonable price has made stone traders in the world prefer Iran.
Cheap labor, cheap fuel, and fast transportation have made Iran a good supplier. The Marvelous Stone Company is one of the best distributors of marble in Iran.
The company has extensive experience in global stone markets. Please contact our consultants to get the price list of marble.