Marble Exports For many years, it has been the way to supply the required stones in different countries of the world. The Marvelous Stone Company is a leader in exporting all kinds of marble to different countries of the world from Iran. The company is also one of the best suppliers of marble in the form of marble blocks, marble slabs, and marble tiles in Iran.
What you read in this article:
Marble Exports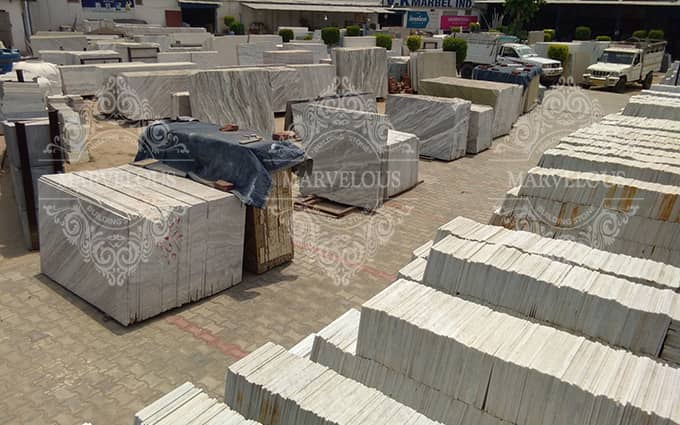 The export of building stones is going on in most of the countries that produce this stone. These countries are large suppliers in this market with their abundant building stone mines.
Global markets for building stones have many suppliers from different countries of the world. After producing marble, these exporters supply these stones in the markets in different ways.
It should be noted that the countries that produce marble with different qualities export to different countries of the world. Some customers are interested in buying 5-star marble.
Another group of customers is looking to buy medium quality marble. Few buyers are looking for third-class quality marble. In addition, exporters export marble in a variety of colors. Such as white marble, pink marble, and yellow marble.
Marble Exporters
The most important exporters of marble in the world are Italy, China, India, Turkey, and Iran. Italy is a country with a long history in the production, extraction, and export of first-grade marble.
Most customers of Italian marble are developed in European countries. China exports and manufactures marble extensively in world markets. India is also one of the best producers of marble in the world.
Turkey is another producer of marble in the world. Turkish marble is mostly exported to European countries. All of these countries have very high statistics on marble exports.
But in recent years, Italy has been the world's largest exporter of marble.
Iran Is The Best Exporter
Iran is also one of the best producers and exporters of marble in the world. Most cities in Iran have built stone mines. Dehbid Iran Marble is world-famous and has many customers in the four corners of the world.
Suppliers and wholesalers in the Iranian stone market export marble. Most of Iran's marble customers are neighboring countries such as the UAE, Iraq, Pakistan, and Russia.
This type of stone has a relatively cheap price compared to the stones of other countries. This is due to low workers' wages, cheap fuel, and easy access to international waters.
Stone traders prefer to buy the marble they need from Iran. The quality of marble is very high and usually grade 1 marble is exported to other countries.