Introducing The Marvelous Stone Company It can be useful for customers who are looking for a good supplier. The Marvelous Stone Company has been producing and exporting all kinds of building stones for more than 10 years. The company also has extensive experience in exporting marble, travertine, and granite. Please stay tuned.
Introducing The Marvelous Stone Company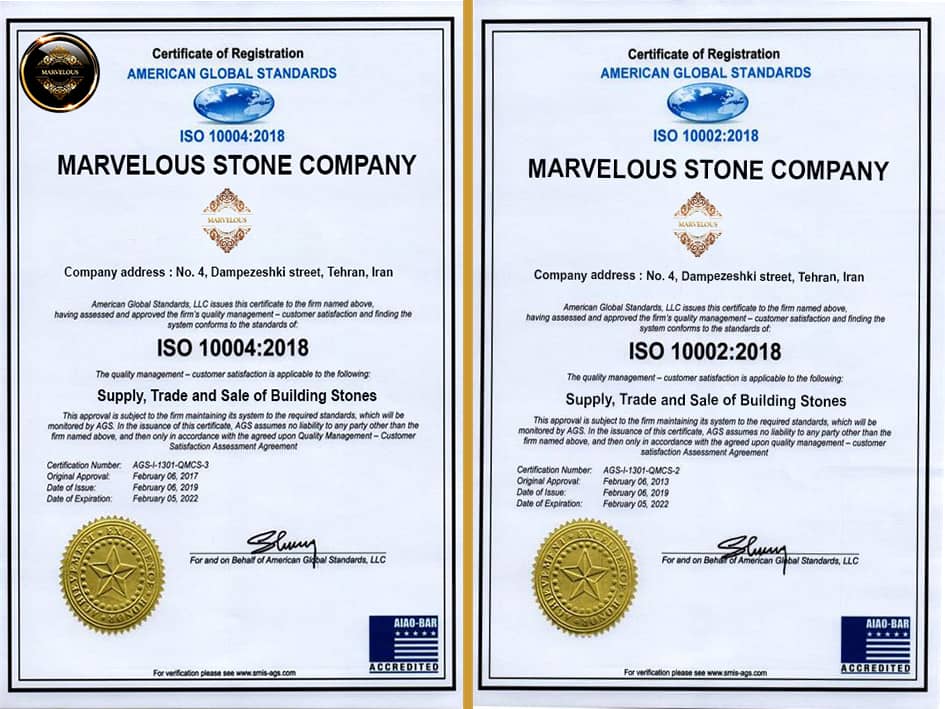 First of all, thank you for reading this article. As you know, the Marvelous stone company in 2018 and 2019 succeeded in receiving ISO customer satisfaction.
In fact, we have many customers in the four corners of the world. The satisfaction of these customers is not easy at all, but we managed to get their satisfaction. Our organization is a very large structure.
This structure consists of four parts. Our management, sales, and customer consulting team, warehouse, and shipping team. Each of these groups has its own responsibilities.
Due to the correct cooperation of these groups, we succeeded in receiving ISO management and customer satisfaction. Naturally, our staff is professional and professional people in their work.
Moreover, we have 4 granite, marble, and travertine mines in Iran. This company has 3 factories and 3 stone warehouses in different cities of Iran. We hope to be better and more successful every day. Of course, with your support and help, dear customers.
Marble, Travertine, And Granite Tiles
The Marvelous stone company's products include a variety of tiles, slabs and blocks of marble, travertine, and granite. In this section, I will explain about tiles. Many tiles are produced in Iran.
Different types of marble, travertine, and granite tiles with different colors and qualities are produced in Iran. Interestingly, our company has the ability to produce all three types of marble, travertine, and granite tiles in 3 factories.
So, I have to thank the workers of the Marvelous stone company in our factories. One of our most important teams in the sales and customer consulting team.
The team gives free advice to customers in choosing the right stone for different projects. In addition, they must have good cooperation with warehouse management and the transportation team. More additionally, You should know that these tiles are available in 40 × 40, 60 × 60, and 80 × 80 sizes.
Granite, Travertine, And Marble Slabs
Nowadays, the use of slabs for walls and floors is very common. We have the ability to produce and export various types of marble, travertine, and granite slabs in Iran.
It should be noted that the blocks of these stones are transferred to factories after extraction from the mine. In factories, they are cut according to the sizes required by customers and then polished.
Slabs are usually cut in sizes of 150 x 180 or 150 x 150 in Iran. Because they can be easily loaded in containers. But if customers want other sizes, it can be cut to size.
Furthermore, these slabs have different colors and qualities. Naturally, we always offer first-class slabs to our customers. Some stones, such as blue and pink marble, have special customers.
The slabs of these stones are not always available due to their high cost. Our company does not offer this slab to customers less than 5000 meters. This is because the extraction and cutting of these stones are a little more expensive than other slabs.
Travertine, Marble, And Granite Blocks
Following the introduction of the Marvelous stone company, I intend to introduce the blocks of this company. You must know that these blocks are extracted from the mines of the Marvelous stone company.
The approximate weight of this block is 25, 35, and 50 tons. Mahallat travertine block is world-famous in Iran. The city has many travertine mines and we also have one of the mines in this city.
I must also raise this issue. We supply customer block orders directly from our mines. Most customers import these blocks into their own country and cut them according to their own standards.
I promise you can never find the price of our blocks anywhere. As well as this, I guarantee we will offer you the best price for travertine and marble blocks.
Well, I hope you are somewhat familiar with our activities. Please contact our consultants to receive the catalog and price list of different types of stones.
You can ask your questions in the form at the beginning and bottom of this page. Our experts will respond to you as soon as possible. The introduction of the Marvelous stone company does not end here. Please read our next articles.
Why Do We Offer Marvelous Stone Company To Buy Stone?
One of the main reasons for this offer is that our most important priority is customer satisfaction. We usually do not charge a lot of money from customers.
Such as the cost of cargo insurance to customs, customs costs, bill of exchange switch costs. Receiving these costs from customers imposes a high price on customers.
We do not think this is fair at all, and we reduce these costs from our own profits. If we have agreed with our customers in the form of FOB. We deliver orders to the ship completely safe.
Even if the contract is in CIF, we try to choose the best ship at the best price. Introducing the Marvelous Stone Company is not really an easy task. Many people worked with us and tried to make this company a success.
It can be claimed that without the help of these people, we would not have succeeded. Thank you to all the workers and experts in all the teams of this company.
Introducing The Marvelous Stone Company It is not easy for us because it is not possible to describe the 10 years of efforts of this team in one article. Finally, I will try Introducing The Marvelous Stone Company continue in the next articles.