Granite Stone Blocks One of the most important ways to supply construction raw materials. The Marvelous Stone Company is one of the most important suppliers of granite blocks in Iran. In addition, the company is one of the most famous granite wholesale and distributors of granite blocks.
Granite Stone Blocks
Granite stone blocks are one of the most diverse dimensions of this stone after processing. This special and popular stone is available in nature in different shapes, sizes, and colors.
This stone, which is a symbol of hardness and decorative, is used in the interior and exterior of the building. The beauty, quality, and strength of granite stone have attracted special customers who want beauty.
Countries With Granite Mines In The World
Iran is one of the largest producers and exporters of granite stone blocks in the world. Other Asian, European, and South American countries are also active in granite production.
The countries with granite mines in the world are Norway, China, India, Brazil, and Bolivia. Together with Iran, these countries are the most important suppliers of granite in the world. Granite is ordered and exported to all parts of the world through these countries.
Countries importing granite from IranGranite stone has many customers inside and outside Iran. Due to its unique properties and high hardness. Other reasons for welcoming this particular stone are the variety of colors and its quality.
China, Turkey, Canada, Oman, Afghanistan, Iraq, Russia, Kuwait, and Oman are among the most in-demand for Iranian granite.
Granite Mines Are Concentrated In Which Regions Of Iran?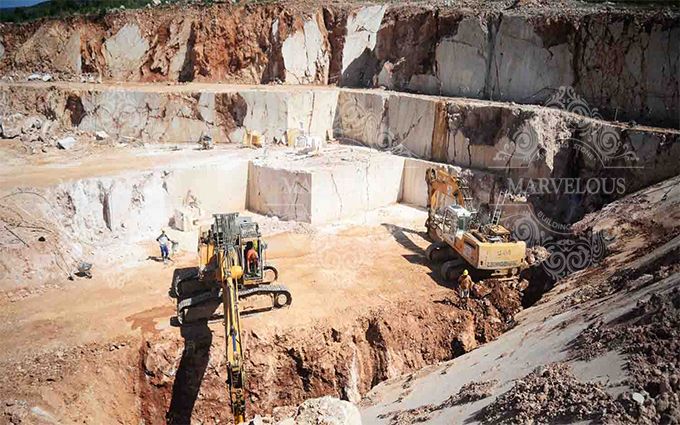 Granite is 20% of all rocks in Iran. Most granite quarries are found in Yazd, Sistan and Baluchestan and South Khorasan provinces. These provinces are the hub of granite exports due to their borders with Afghanistan and Pakistan.
Dimensions Of Granite In Iran
The existence of abundant granite mines in Iran has caused different dimensions and shapes of granite to be in quarries. Suppliers who own mines can easily supply the granite needed by customers due to its large size.
These suppliers also work with reputable shipping companies to send large orders to send customer orders. Granite stone required by customers is cut into blocks, slabs, and tiles as well as other dimensions.
When you want to buy this stone please consider granite quality. This topic is really important for your building.
Export Of Granite From Iran
A large part of Iran's national income comes from the export of various stones to other countries. Part of the granite export occurs directly by placing orders to the owners of granite mines.
In Iran, in addition to mine owners, major suppliers export this product. Granite customers' orders are sent to them in various dimensions and sizes with various transportation systems.
The supplier is committed to sending orders safely and without defects along with product insurance.
Granite Block Stone Price In Iran
Hardness, strength, and longevity of granite compared to other stones make it more expensive than other types of stones. Also, the variety of dimensions and colors is one of the factors affecting the price of this particular stone.
Other factors that make granite more expensive are mining and stone quality. Granite has various prices depending on its use in interior, exterior, or decoration. To know the final price of granite block stone, all the above factors in the final price should be checked and determined.
More additonally, before buy granite be sure consult to an expert seller.
Granite Block Stone Packaging For Export
The method of packing export goods in a safe and secure manner is one of the most important requests of customers. The type of packaging is one of the factors affecting the cost price of export products. This topic is really important in the granite market in the world.
Receiving healthy, harmless, and safe goods completely eliminates the worries of customers. High customer satisfaction from receiving a healthy and harmless product leads to continued communication with the exporter.
Increasing the percentage of customer trust is one of the results of proper packaging methods. Moreover, the use of trailers with containers ensures healthy delivery of the granite stone blocks to a high percentage.
Transportation Of Granite Blocks
Methods of transporting and sending goods and ordering customers are important options in exporting all kinds of stones. The principle of safe and damage-free delivery includes all types of goods and even stones.
Due to its location in the Asian region, Iran is a bridge between the east and west of the world. Iran's privilege of being on this communication highway has facilitated the export of goods. Through various methods of transportation.
Road routes, transit roads, rail routes, and shipping ports are the centers for sending orders to all Iranian traders. In addition, Iran's geographical location makes it easy for exporters. Customers of granite block stone to choose one of the transportation methods and send the order.
The presence of the Caspian Sea in northern Iran and the Persian Gulf and the Sea of ​​Oman. Greatly contributes to the maritime export of granite blocks. As you know, there is a big difference betwine cheap granite export, 2 degrees, and, the best granite stone packing.
How To Order Granite Block Stone?
The Marvelous Stone Company is one of the most important major granite suppliers in Iran and Asia. Customers announce their orders with any specifications and features. They can by submitting their request through the site, email, or by phone.
The skilled specialists of our sales team in our company prepare the customer order in the shortest possible time.
The Marvelous stone company keeps in touch with you from the time your order is placed until the goods are delivered.