Cheap Travertine Marble In Iran Dear customers, you can get these stones very cheaply from Iran. The Marvelous Stone Company can be your best supplier. The company has a lot of experience in exporting and they are a professional team. In our company, the interests of our customers are always one of our top priorities.
What you read in this article:
Iran Travertine Marble
Travertine is a great product for residential and commercial use and is increasingly popular. Because not only does it have a beautiful marble appearance, but it also provides a beautiful and seductive look.
One of the salient features of this stone is its durability in hot and cold weather. Iran has the most diverse colors of travertine in the world. For example, yellow travertine, red travertine, brown travertine.
Take cream color travertine has a light cream background to a chocolate background, the light colors of which tend to be white.
Take worm travertine price The price of Takab worm travertine stone depends on factors such as stone grade, thickness, etc.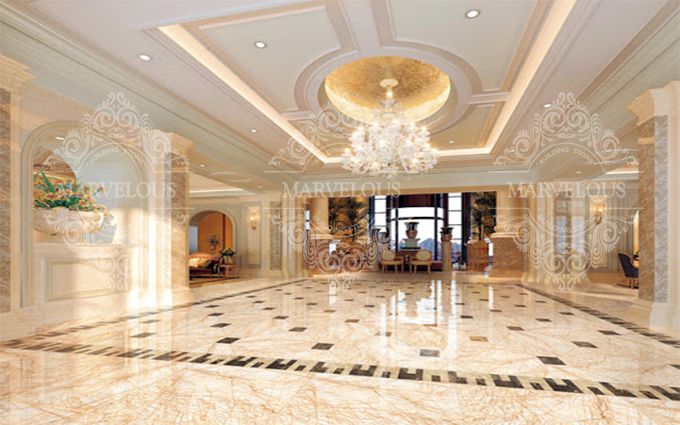 Iran Travertine Suppliers
Iran has high-quality travertine stones that are usually extracted from mines in cities such as Isfahan, Kashan, Azarshahr, Yazd, and Abbasabad. In addition, Mahallat Bukhari Valley Travertine, Mahallat Hot Water, Zanjan Cream, West Azarbaijan Mako Cream, and Hamedan Chocolate are among the active mines in the field of production and supply of travertine stone in Iran. Even once, trade travertine suppliers in Iran, and you will see what you gain.
Iran Marble And Travertine Natural Stone
The travertine stone market in the country has different prices. Most prices depend on the grade and quality of the stones. The more polished the stone and the more uniform the holes, the better the quality, and therefore the higher the price.
Moreover, in Tehran, most travertine stones are sold in Shamsabad industrial town.
Cheap Travertine Marble In Iran
Also, Besat town located in the southwest of Tehran and Hakimiyeh stone city located in the east of Tehran is well-known centers for producing various types of travertine.
Khorasan Razavi province and Mashhad city are some of the places that have been active in the production and processing of travertine stones for a long time.
The Marvelous Stone Company has many years of experience in supplying stones to customers. Our company invites you to trade with us only once and then judge our quality.
Furthermore, The cheapest travertine stone that we offer you is not because of the low quality, but because of the wholesale and direct sales.