Buy onyx marble slab It is used for various things. Some of these slabs are used in construction. Iran is one of the most important producers of marble and onyx slabs in Asia.
What you read in this article:
Buy onyx marble slab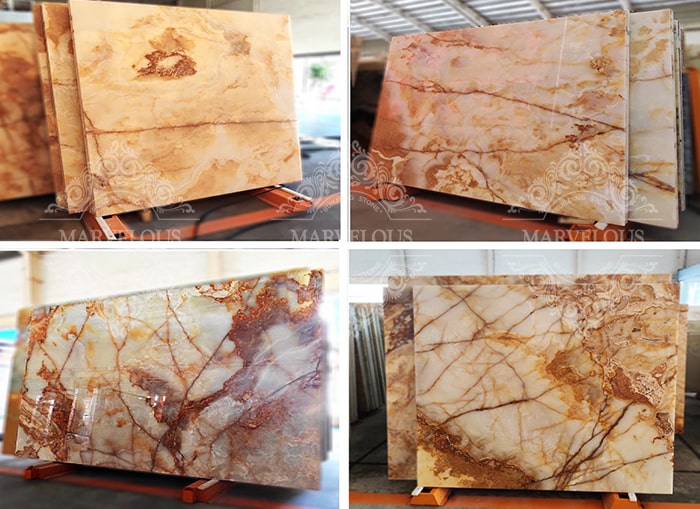 Every day my colleagues negotiate with many customers to buy all kinds of marble and onyx stones. Undoubtedly, every customer is a new case and has different demands.
Managing these orders and producing and supplying these requests are the duties of our colleagues. In fact, slab production is very different from tile production.
It means it needs modern machines and more human forces. Iran is one of the most important production centers of onyx and marble slabs.
The variety of production of these stones in Iran is very high and excellent. You can buy all kinds of onyx and marble slabs from Iran with almost any taste.
All kinds of white, black, cream, golden black, spider, chocolate, and Pietra gray marble stones are produced in Iran. In addition, types of blue, green, pink, white, cream, and smoky onyx are also produced in Iran.
The Marvelous stone company produces black rose, princess, lemon, diamond, and romance types of onyx in Iran.
Import marble and onyx slabs
Many countries are importing all kinds of building stones to their own country. These countries import these stones through stone traders. Importers of onyx and marble stones from different countries contact our colleagues.
Most Chinese businessmen contact our company to import all kinds of onyx and marble. Of course, most of our neighbors have many requests to buy these stones.
In Iran, many manufacturers and suppliers are working and producing all kinds of marble and onyx stones. So you can find these manufacturers on Google with a simple search.
If you intend to import tiles, slabs, and cups of marble and onyx stones, be sure to contact our sales department. Our colleagues are the best specialists in the stone industry in Iran. All these people have more than 20 years of experience in this market.
The price of onyx and marble slabs
The price of these stones depends on various factors. One of the most important influencing factors on the price is the block type of this stone.
Moreover, it is very important from which part of the mine this stone is extracted. The next factor is the type of stone. The next factor is the type of production, the type of cutting, and the type of stone processing materials.
Regarding the issue of export, shipping and packaging costs are also very important. Well, in Iran, all the mentioned materials are usually made with excellent quality.