White Marble Stone Price It has different prices in different countries of the world. Some countries are cheap and some countries are expensive. The Marvelous Stone Company is one of the most reputable manufacturers and distributors of white marble in the Middle East.
What you read in this article:
Also, this company is a leader in exporting all kinds of white marble to different countries of the world. It does not matter what country you live in. In all countries of the world, you can benefit from all kinds of services of our company. In fact, you can save your time, energy and money by buying white marble from our company. So, we also provide the best pink marble, red marble, and green marble.
White Marble Stone Price
White marble is one of the most beautiful types of marble in the world. Different countries produce and process this stone. In some countries, this stone has black, gray, and green veins. But white samples with black streaks are produced in most countries that produce this stone.
Of course, there is also a type of white porcelain or completely white and without streaks in these stones. Italy, Iran, and China are the top producers of white marble in the world. Many countries in the world are looking to import these types of stones.
In fact, white marble has many uses. They are installed on the wall both as flooring and as stone. The variety of white marble quality is very high. Because customers of this stone are also looking to buy a variety of qualities of these stones.
Marble Prices In Different Countries
Naturally, as you know, the conditions of marble production are different in different countries of the world. In some countries producing this stone, transportation costs and workers' wages are expensive. On the other hand, in some countries these items are cheap, but the taxes and customs of that country are expensive.
All this affects the final price of the stone. As a result, white marble is more expensive in some countries than in others. Of course, some countries also use tricks to reduce their costs, which can not be explained in this article. Land and sea transportation costs have a direct impact on the price of white marble. As well as this white marble stone price is a really important topic to import.
Iran Is The Best Supplier Of White Marble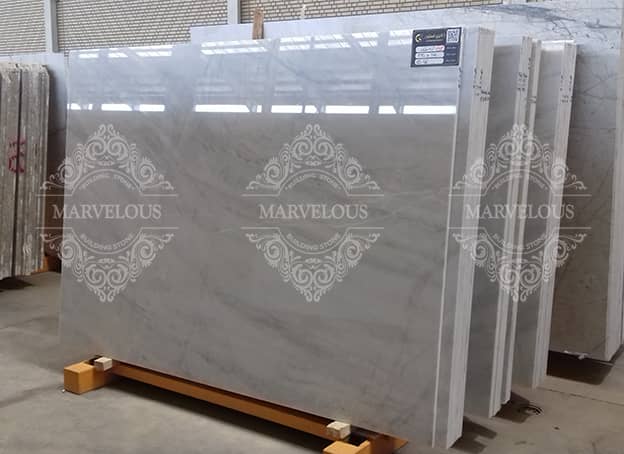 Undoubtedly, Iran is one of the most important centers for the production of white granite in the world. The quality of this stone and its price are unique in Iran. In fact, Iranian marble is world-famous in the world. Many cities in Iran have white marble mines.
For example, Neyriz, Qorveh, Aligudarz are the most important cities producing white marble in Iran. Production costs in Iran are much cheaper than in other countries. Transportation, fuel costs, workers' wages, and customs in Iran are very cheap.
Marble merchants often prefer to buy all kinds of marble from Iran. Also, there are many suppliers of marble in Iran. Marble tiles, marble slabs, and marble blocks are produced in high volume in Iran. Well, white marble stone price long story.
The Best Supplier Of White Marble
The Marvelous Stone Company is a leader in the production and export of white marble in Iran. Of course, our mines, factories, and warehouses are in Iran. But our offices are in Turkey and UAE. All customer orders are processed through Jabal Ali port in the UAE and Mersin port in Turkey.
We have made the whole purchase process easy for you. Leave all your stone imports to us without the need to travel to Iran. The best specialists in Iran's stone industry are ready to serve you. We use the best of Iran in all sectors of production, sales, transportation.
By buying from our company, you can experience an easy, cheap and fast purchase. All your orders can be received within a week. We have the best customer service for you. Do not miss this golden opportunity to shop. Register and send your order in the form at the bottom of this page right now.