Pietra gray marble price is always an important issue for customers. This very beautiful stone has many buyers in different countries of the world. Iran is one of the largest producers of Pietra gray marble stones in the form of tiles and slabs.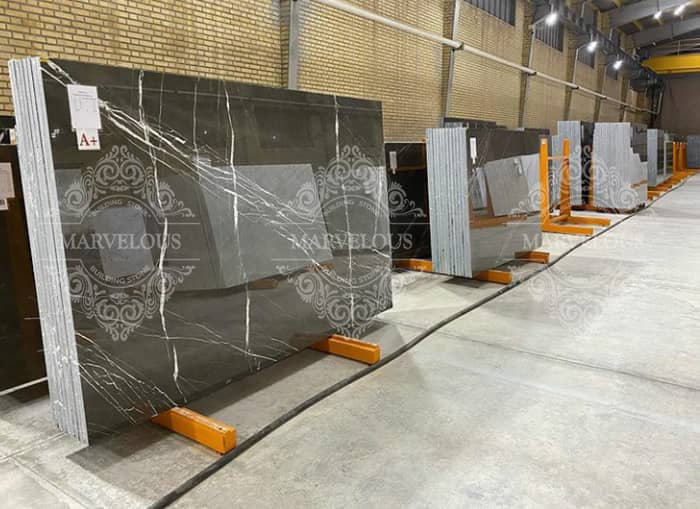 Pietra gray marble price
If you agree, in this section we will explain a little about the characteristics of this stone. Petra Gray marble is one of the marble family types of building stones.
The color of this stone is smoky and black, and white streaks can also be seen in this stone. In Iran, this stone is usually produced and processed in the form of slabs and tiles.
Many neighboring countries of Iran are among the big importers of this stone to their countries. The Marvelous stone company is one of the best producers of all kinds of these stones in Iran.
We produce and export Petra Gray marble in C, B, A, and A+ qualities. A large part of the buyers of this beautiful stone is in Asian countries. The question may be raised, what are the uses of this stone?
This beautiful stone is used for both flooring and wall covering. In addition, steps of this stone are also produced. This stone is often used for the walls of the lobby, TV room, and staircase.
Production of Petra Gray marble
The Marvelous stone company has been producing and processing all kinds of Lashter marble stones for more than 15 years. Our products include different sizes. Some of these sizes are:
60 by 60
80 by 80
100 by 100
180 x 160
220 x 180
Of course, all your orders are also produced. In terms of weather, Petra Gray marble is a very resistant stone and is resistant and suitable in any weather.
Import and price of Petra Gray marble
As we said before, Petra Gray marble has many international buyers. Most Arab countries use this stone in their projects. Fortunately, many mines in Iran are extracting Petra Gray marble.
Even in Europe, North America, and Africa, this stone has many buyers. Our business partners have many customers in different countries to buy these stones.
Most hotels, museums, restaurants, commercial, office, and residential centers use Petra Gray marble in the lobby, stairs, interior walls, and columns.
Buyer of Petra Gray marble
Buyers of this beautiful stone call us daily from many countries of the world. Naturally, the orders of these friends are diverse and different. Our mission at the Marvelous stone company is to produce all orders with the highest quality and deliver them to these customers with the highest quality. So, be sure that you will experience the best with us.
Export and price of Petra Gray marble
Iran is one of the biggest exporters of all kinds of marble stones to all countries of the world. All kinds of marble, granite, travertine, onyx, and quartz stones are exported from Iran to most countries of the world.
In fact, this country is always among the top 5 countries producing building stones in the world. The export of Petra Gray marble is not a new phenomenon in Iran.
Rather, it has been more than 30 years since this stone is being exported from Iran to many countries in the form of blocks, slabs, and tiles.
The Marvelous Stone Company is a special brand with unique services in exporting all kinds of marble stones in the world. If you are looking for special services to buy all kinds of marble stones, be sure to contact our company.
Petra Gray marble slabs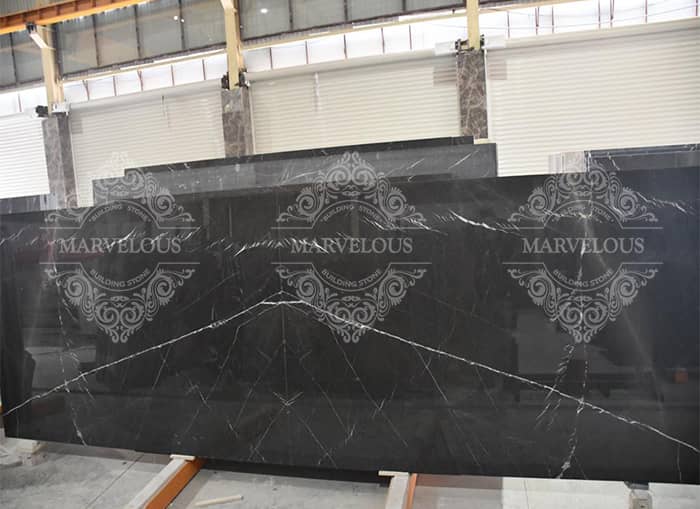 In this section, let me explain the purchase of Petra Gray marble slabs by a European customer. After initial negotiations with this customer, we agreed to produce and palletize 2000 square meters of Petra Gray marble slabs for them.
Naturally, we received 50% of the amount at the beginning. According to the contract, we had to deliver the order at Jebel Ali port in the UAE. So, we moved the stones to this port.
The customer's representative received the order, but the ship that was supposed to carry the cargo had not yet arrived. A few days passed but there was no news of the ship.
We made many attempts during these few days to change the ship until finally, we managed to agree with another ship to carry the stones. Fortunately, everything went well and the order reached the customer.
Pietra grey marble Iran
If you allow us to explain a little about the other products we produce in this section. In fact, the Marvelous stone company has various products.
We are producing and export all kinds of granite, travertine, and onyx stones for our customers in many countries of the world. In addition, we also produce and export all kinds of white, cream, marshal, golden black, chocolate, and black marble stones.
The variety of building stones in Iran is amazing. Only more than 220 different types of marble are mined and processed in Iran. More than 250 types of travertine are processed and produced in the building stone market in Iran.
Pietra grey marble tiles price
Some customers ask us, where is Petra Gray marble tile suitable for? In the first step, let us explain that this stone is not suitable for the facade of the building or the exterior of the building.
Rather, it is completely suitable for the space inside your building. Usually, this stone is mostly used in the interior flooring of rooms. In addition, Petra Gray marble stepping stones are also very popular.
Pietra grey marble kitchen
As you know, different types of marble stones are also used in the kitchen. Often in the kitchen, Pietra Gray marble is used on the floor and walls, as well as the counter.
All types of Pietra Gray marble in Marvelous Stone Co.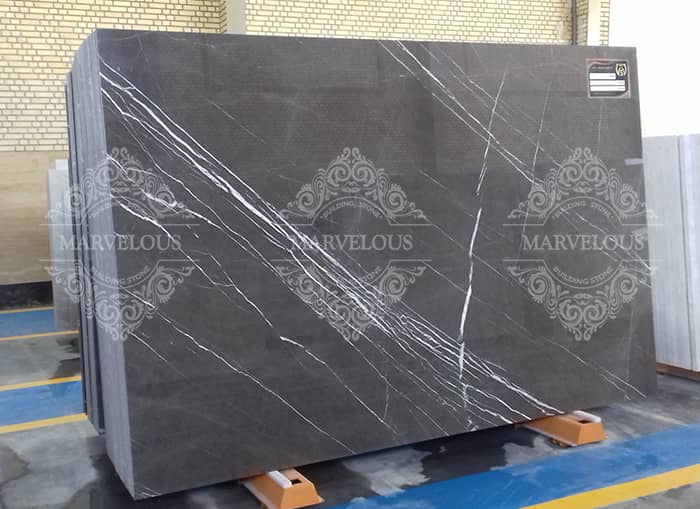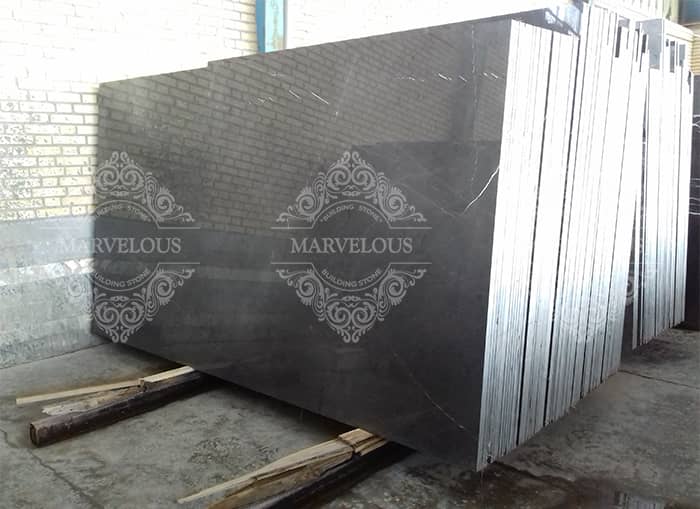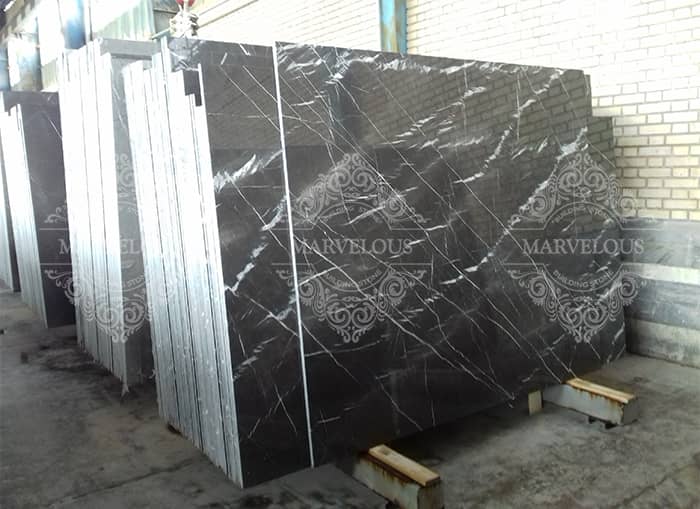 All these examples are only a small part of the huge production of our company. There are more than 400 images and more than 2 hours of video about Petra Gray marble.
My colleagues are trying to publish these images and videos in future articles. Please contact our colleagues in the sales department to register your orders or complete and send the cooperation form.
If you liked this article, please share it with your friends and colleagues. Well, if you have any questions, please send them to us in the readers' comments section below this article.
Our colleagues will answer your questions as soon as possible. I suggest you use our products even once. Finally, we guarantee the quality and price of all Petra Gray marble stones for our customers. We tried to fully explain Pietra Gray marble's price in this article. I promise to offer you the best price for this stone. Pietra gray marble price is not a price for us because it is a great service for us.