Onyx stone slab trade is very profitable in many countries of the world. Also, onyx stones are one of the most beautiful and expensive stones available in stone markets in the world.
What you read in this article:
Onyx stone slab trade
Nowadays, onyx stones have many fans in different countries of the world. It doesn't matter where in the world onyx slabs are traded. Because these stones have many buyers all over the world.
But the uses of these stones are also different in different countries of the world. Onyx stone importers are buying and selling these stones on almost all the continents of the world.
Well, in some countries, these stones are quickly re-exported. Traders of onyx stones know very well the best producers of these stones. Therefore, they supply and send the stones from these countries according to their orders.
One of the most profitable businesses in the world is the business of these stones. Usually, the final destination of these stones is the rich countries of the world. Most European and Arab countries are among the most important buyers of these stones.
Buy onyx stone slabs
Every day, many buyers from different countries of the world contact us to buy these stones. A large part of the buyers of these stones is looking to buy blocks of these stones in high tonnage.
In the Asian continent, many of these countries, such as China, use onyx stones in various industries. As you know, these stones can be seen in different buildings in different countries of the world. For example, in India, white onyx stones are used in temples.
Special sale of onyx stone slabs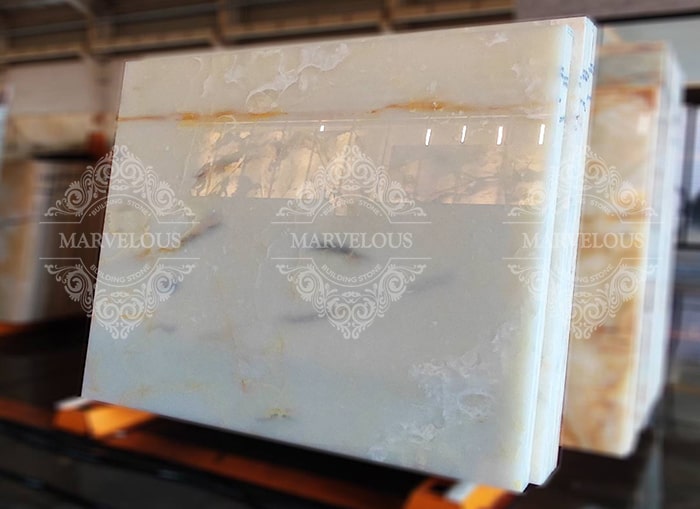 The Marvelous stone company is one of the largest producers and exporters of all kinds of onyx stones. This company has more than 40 factories and warehouses and 10 construction stone mines in the Middle East.
In addition, our company has more than 20 years of experience in exporting all kinds of marble, onyx, granite, and travertine stones. Buyers of different building stones from different countries of the world come to us to buy their stones.
One of our most important products is onyx stones. We produce all kinds of green, pink, blue, white, cream, orange, and lemon onyx stones of the best quality.
Also, we produced and supplied Onyx Princess, Romance, Diamond, Golden Cloudy, and Black Rose in recent years. If you are looking to import special onyx stones, contact the sales department of our company.