Import Travertine One of the most important ways to supply raw materials in developing countries. The Marvelous Stone Company is one of the top suppliers of travertine in Iran. It is also a leading exporter and travertine wholesale. The export of travertine and cheap travertine blocks is the largest export volume of our company.
What you read in this article:
Import Travertine
Iran is one of the largest manufacturers and exporters of building and decorative stones in the world. As you know is the fourth largest exporter of building stones among rival countries in the world.
Travertine is one of the best and most popular stones and has a large market in most countries of the world. Moreover, travertine is a very stylish and beautiful type of stone in various designs.
These stones have very good resistance. For this reason, they are very popular and are exported to many foreign countries. This stone has special and unique properties and has many customers in Asia, Europe, America, and Africa.
One of the reasons for choosing this particular stone, in addition to its features, is the reasonable price to buy it in Iran. For this reason, many customers from all over the world send numerous requests for this stone.
Travertine Suppliers
A number of countries in Asia, Europe, and Africa are involved in the supply and processing of travertine building stone. These countries often meet the domestic demand for this building stone and are not able to export it to other countries.
The center of supply and supply of travertine in the world are Iran, Afghanistan, Turkey, China, etc. Nowadays, travertine tile is common in most countries of the world.
Travertine Mines In Iran
Fortunately, Iran is very rich in natural stone reserves. Also, in addition to the abundance of building stone mines, Iranian stone is very diverse in terms of design, color, and material.
This great variety of Iranian stones has made Iran one of the largest producers of building stone in the world stone market. Travertine is also one of the producers and exporters of Iranian building stones.
The center of supply and supply of travertine building stone is in the neighborhoods of Markazi province. In this city, many mines are active in the field of extraction and production of travertine.
This high-demand stone is sent in raw form and in the form of slabs from the mines to stone processing companies, and then it is produced in the form of slabs and tiles in various dimensions.
Travertine Importers From Iran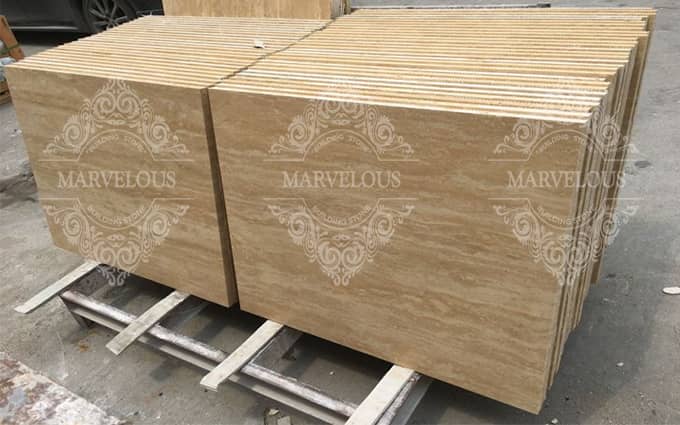 Iran's building stone exports have stagnated in recent years due to political sanctions. However, Iranian stone is exported to other countries, albeit in small quantities.